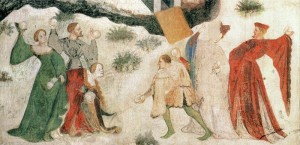 Feast of St Victor and Winter Tourney
Come along and enjoy an event filled day at Surges Bay Oval Saturday 23rd July 2014
A 9am start brings a heavy fighter tournament, followed with a rapier battle, and after lunch we will finish up with Archery – a men's, women's, children's and a speed round competition.
It's a Pot Luck Feast Lunch so please bring a dish to share and we will supplement it with some warm hearty winter food.
Adults $10 + $5 for non-members
Children under 12 $5 + $5 for non-members
Bookings to seneschal@lightwood.lochac.sca.org by Friday 15th August with your member number and what you will be participating in.
Combatants for Heavy and Rapier must book by this date as there will be no tourney enrolments available on the day. Pre-paid bookings are encouraged
You have plenty of time to turn your hand to some craft and enter our A&S competition. It's a winter theme, documentation is encouraged.