Feasts – often held in conjunction with combat, archery and other activities during the day – are times when the medieval dream comes to life. Sharing food by candlelight, watching the pageantry of Court, listening to bards and entertainers – feasts are an escape from the mundane world.
Since we are a volunteer society, feasts are run by our members, usually a team of Steward (event co-ordinator), Head Cook, and Marshal (in charge of combat activities), and their helpers. The Canton usually holds 3-4 feasts each year, from the extravagant and ornate to the small and casual, with menus ranging from the five course catered extravaganza with recipes covering a thousand years of history to the relaxed pot luck.
Non-members are welcome to come along. Medieval garb and basic feasting gear can be provided for people coming to their first event: contact the Hospitaller, Jan, on 6297-1083.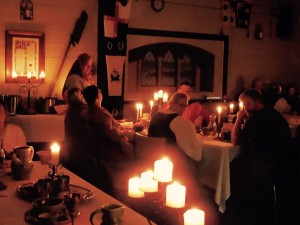 New feasts are listed under upcoming events in the menu bar, and some event pages or galleries of past feasts can be found below.
Nov 2015 Feast of the St Edmund's Pippin – flyer, event write-up and photo gallery.
Feb 2015 The Holy City War and Feast – flyer and photo gallery (coming soon)
Aug 2014 Feast of St Victor and Winter Tourney – flyer and photo gallery.
May 2014 Lightwood's Harvest Feast and Tourney – flyer and photo gallery.