Click on the thumbnails to embiggen.
The Day
Arts and Sciences competition entries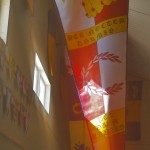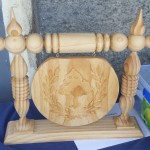 L-R: Helewyse de Bonnay, Jennifer le Dragoner de Lille, William de Bonnay
L-R: Erlendr Tryggvason, Morwenna de Bonnay, Aidan Brock
Lady Elena Anthony's gilded sugar paste, marzipan and pashmak (fairy floss) entry came to an unfortunate end in an untimely gust of wind, however the populace were still most appreciative of her efforts (particularly the bits they got to eat before this photo was taken).
The Feast
Dessert course and the cutting of the cake
Photos by Darren West, Eric TF Bat, Wendy Calabria and Christine Arnold  – thank you!