The Canton celebrated our third St Sebastian's Archery Picnic on February 18th. It was a fun, low-key event, in which the usual high calibre of archery in the Barony was on display. The fiendish mind of the Canton's Captain of Archers had been hard at work to produce new targets to dismay and confound all comers, as is now traditional.
The place-getters of the archery competition were Lord Anselm da Calabria (first on 146), Thomas Loxley (140) and Lord William de Bonnay (139). Winner of the pairs shoot were Thomas Loxley and Baroness Anna Felice Tavestoche (122). Congratulations to them all on a splendid showing.
In addition to the usual archery activities, this year's picnic incorporated a new – and exceedingly popular! – Arts and Sciences competition, for medieval pies. While an excellent subject for an A&S competition in itself, the popularity undoubtedly came from the fact that the pies were distributed to the populace after the official judging was complete. The winner – and also second place getter – of the A&S competition was Lady Helewyse de Bonnay, with her spectacular blackberry pie (made from her own blackberries) taking first place, and her Tortes d'Agli (garlic pies) coming in second. Third place getter was Morwenna de Bonnay. Thanks and congratulations to all the entrants, your contributions were greatly appreciated! The trophy for the A&S competition was an ingenious and very appropriate rolling pin, made by Lord William de Bonnay.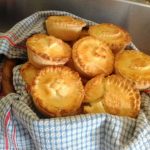 Photos by Christine Arnold. Click on thumbnails for detail.
Baroness Anna Felice Tavestoche was delighted to welcome wayfarers to the Barony, from the Canton of Burnfield in the Northern Reaches. They are pictured here (on the right) with their friends and hosts, Nicholas and Tina of Lightwood (on the left).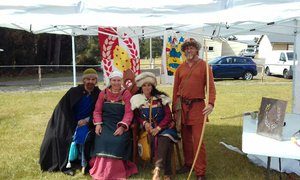 Thanks and congratulations go to the Housse de Bonnay – particularly event steward Lady Morwenna de Bonnay – and their helpers for another delightful event.