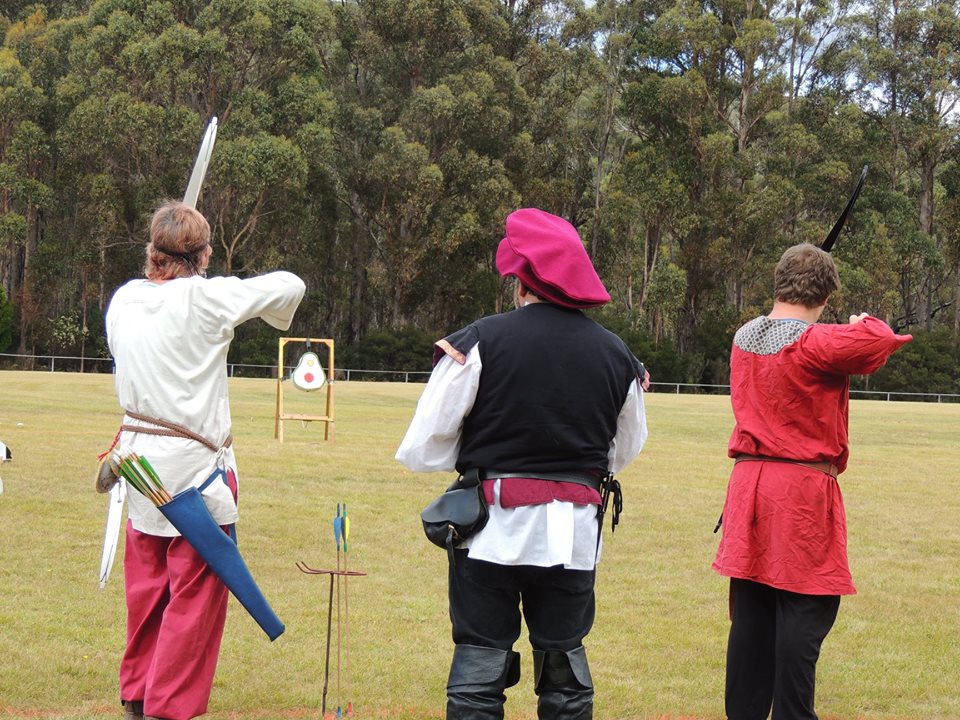 The Canton of Lightwood held our fourth annual St Sebastian's archery tourney and picnic on Saturday 3rd March 2018. It was a delightful day, with a challenging archery course, a great deal of food, and enjoyable company. We had 35 archers take the field, in two individual rounds followed by a couples' shoot. We enjoyed the company of some members of the Loxley Traditional Archers, who travelled down from the north of the Barony to join us for this event. While several are old friends, it was a pleasure to meet others who were new to attending southern events, and we hope to see them at more in the future.
Winner and runners up of the individual competition were Thomas Loxley (1st), THL William de Bonnay (2nd) and Gareth of Loxley (3rd). Winners of the couples' shoot were Thomas Loxley and his lady, Guinevere Winter Marsh. It is always a great pleasure to have the inspiring skill and sportsmanship of the Loxley Archers on show at our events.
As part of the event, steward Lady Morwenna de Bonnay reprised the very successful Arts and Sciences competition from last year, on the theme of pies (a subject close to the heart of most Lightwoodians). There were four entries in the competition. The prize for the competition – a splendid wooden cake platter made by THL William de Bonnay for the occasion – was won by Lady Morwenna de Bonnay with her beautiful and succulent rabbit pie, with the runners up being Lady Alessandra di Fiore di Piero della Mora (2nd) for her chard and cheese pie, and THL Karl Faustus von Aachen (3rd) with a beef pie – also notable for being his first entry into any kind of A&S competition in 26 years in the SCA! After judging was complete, the pies were subjected to rigorous quality testing by the rest of the populace at lunchtime and pronounced worthy of their accolades.
At Court, we witnessed the changeover of several offices, with Mechtilde Schuynagel stepping down as Arts and Sciences Officer, Lord Robert de Bonnay stepping down as Marshal, and Lady Morwenna de Bonnay stepping down as Constable. Lady Morwenna then stepped up as Marshal, and Lord Ranmor Argul stepped up as Constable.
The steward's skillful management of the weather enabled us to enjoy a beautiful day on the oval with sunshine, picturesque clouds and gentle winds, and complete all the pack-up before the skies opened for a short but intense deluge approximately five minutes after everything was stowed away. The timing – as with almost everything else about the event – was excellent. Huzzah!
All photos by Lady Wenefrith Everett de Calabria