After the success of the children's boffer-fighting component at Saturnalia, the Canton decided that we needed to make boffers for the group rather than relying on private or Baronial loans. Friday 21 July was picked as the night to work on this project. Many hands make light work, and with the use of the workshop at our wonderful venue, the Geeveston Community Centre (GeCo), we had seven new boffer swords and daggers made in no time.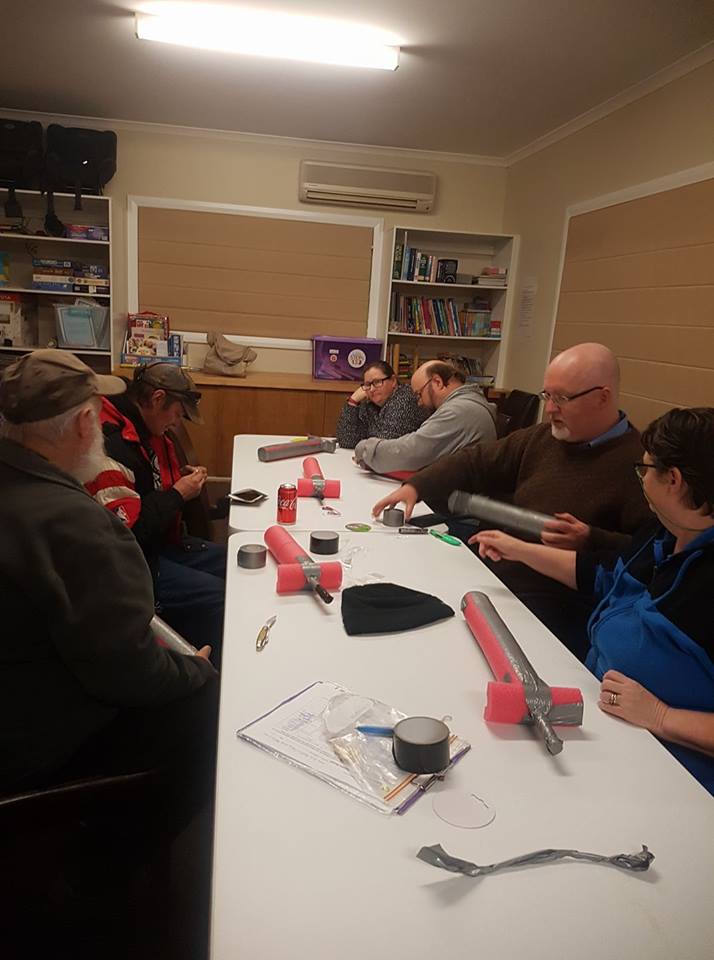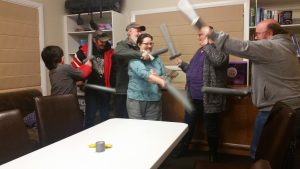 Photos by Adelindis filia Gotefridi and Karl Faustus von Aachen. Click to embiggen.
The Canton meets most Friday nights at GeCo from 7pm for A&S project night – bring your own, or work on something to benefit the group. For details, check out our calendar, Facebook group or contact our A&S officer, Tina of Lightwood.
Lightwood was blessed with a beautiful winter's day for the resumption of Canton Day on Saturday 8 July. We had 12 people in attendance, including several who had travelled down from the greater Barony, and several rounds of archery were enjoyed, interspersed with a pot luck lunch.
The ingenious backstop for catching arrows and preventing them from travelling into the neighbour's paddock worked very effectively. Thanks to Lady Mariot and Lord Ranmor for their hospitality, and the effort they put into preparing the archery range. We hope to be back again soon!
While the Canton Day on the 5th was washed out by the weather, the Canton will still be active in the lead-up to Christmas. Upcoming dates:
December 11th: the annual Canton entry in the Geeveston Christmas Parade, starting at 6pm
December 12-13th: End of an Era – Royal event, being held by the Barony at Kraken Hall in Hobart, all day
December 18th: last A&S project night for the year, 7pm at GeCo
December 19th: garbed archery/imot/potluck BBQ and Christmas celebration, Surges Bay oval, 12-3pm
December 29th: garbed potluck picnic and practice tourney, Huonville Foreshore BBQ area, 5pm
The Canton will be returning in January with A&S project night and imot on the 8th and 9th, and our next Canton Day on the 16th. Canton Day will be welcoming us back into the swing of things for the year, and we hope to have enough fighters attending to put on a relaxed tourney as well as the usual archery and potluck. Hope to see you there!
Click on the thumbnails to embiggen.
The Day
Arts and Sciences competition entries
L-R: Helewyse de Bonnay, Jennifer le Dragoner de Lille, William de Bonnay
L-R: Erlendr Tryggvason, Morwenna de Bonnay, Aidan Brock
Lady Elena Anthony's gilded sugar paste, marzipan and pashmak (fairy floss) entry came to an unfortunate end in an untimely gust of wind, however the populace were still most appreciative of her efforts (particularly the bits they got to eat before this photo was taken).
The Feast
Dessert course and the cutting of the cake
Photos by Darren West, Eric TF Bat, Wendy Calabria and Christine Arnold  – thank you!
On 21st November 2015 the Canton and Barony gathered at Kraken Hall, the home of the Barony of Ynys Fawr, to celebrate the 4th anniversary of the creation of the Canton of Lightwood. It was a light-hearted event featuring a full day of heavy and rapier tourneys and an archery competition, an A&S competition, and an evening of feasting and entertainment.
Stewards were Helewyse and Robert de Bonnay (Christine and Bill Arnold), and Head Cook was Ursula Mariae Einhorn (Angela Garth).
The winners of the various competitions were as follows:
Party hat killer skirmish
Winner Jack of Lightwood (Jack Hyde)
Second place Wulfgar Jarnsida (Dan Russell)
Heavy tournament
Winner Aidan Brock (Kevin Hotson)
Second place Wulfgar Jarnsida (Dan Russell)
Third place Robert de Bonnay (Bill Arnold)
Rapier tournament
Winner Perran of Lyskyret (Peter Apted)
Second place Anselm de Calabria (Nicholas Calabria)
Archery target shoot
Winner William de Bonnay (Terry Arnold)
Second place Aidan Brock (Kevin Hotson)
Third place Morwenna de Bonnay (Jan Arnold)
Apple on the head target shoot
A very close 1 for 1 shoot out between William de Bonnay and Erlendr Tryggvason (Tully Lampasona) saw William de Bonnay take the win.
A&S competition
Winner of the overall prize for the A&S competition was Helewyse de Bonnay (Christine Arnold).
Jennifer le Dragonier de Lille (Jenni Hotson) was awarded the token for best documentation.
Further details of the A&S competition can be found here.
Court
At Court, the changeover of the Canton's Seneschal, Constable, Lists and A&S Officers took place. Thanks were given to Mariot de Bonnay (retiring Seneschal), Helewyse de Bonnay (retiring Constable and Lists) and Adelindis filia Gotefridi (retiring A&S Officer) for their service, and congratulations to Helewyse de Bonnay (Seneschal), Morwenna de Bonnay (Constable and Lists) and Tina of Lightwood (A&S) for stepping forward to take on these offices.
Bridget Wynter was also appointed a lady-in-waiting to Her Excellency, Baroness Madeleine de Bourgogne.
The feast
First Remove:
Bread Rolls/Gluten free bread rolls
Vegetarian soup
Sweet potato soup
Pea and Ham soup
Second Remove:
Platters of rice, vegetables and beans
Apricot pork
Beef Nicoise
Armenian Lamb
Third Remove:
Dessert – Hot Apple Pies (what would a Lightwood event be without apple pie?) with cream and fresh made custard
Fruit Cakes (made by Jenni Hotson)
Birthday Cake (made by Christine Arnold)
Curious about medieval re-enactment and want to know more about it?
During October-May the Canton of Lightwood will be holding Canton Day at Heritage Park in Geeveston from 11:30am on the first Saturday of every month (weather and other Baronial events permitting), where we put on our medieval clothes and bring along a potluck dish to share for lunch, and enjoy conversation, games or other social activities. Anyone interested is welcome to come by and have a look. Garb isn't expected of newcomers, of course, but we have some to borrow if you want to get into the spirit of the day.
Last season Canton Day included archery, which interested bystanders were welcome to participate in, but due to changing circumstances at Heritage Park this is no longer possible. If we find a new venue this may change, so check back here!
For more information please contact our Hospitaller, Lady Morwenna de Bonnay (Jan Arnold) on (03) 6297 1083.
Save
After a three-year break, Medieval Mayhem will return to Geeveston in April 2012.